I'm Aarni Heiskanen, Construction Innovation Agent and the Managing Partner at AE Partners.
I have a master's degree in architecture, and I worked as an architect and architectural R&D manager for over a decade. Gradually, I grew more and more interested in innovative business development. I became an internet entrepreneur, and, later on, a certified management consultant (CMC).
Today, I'm a co-owner of AE Partners, a content marketing firm for real estate and construction trailblazers. I co-founded Thinking Portfolio, a company delivering project portfolio management SaaS to over 50,000 users in more than 50 countries.
I have authored business books, including The Management Consulting Blueprint, and written articles for local and international publications, e.g. ISACA Journal and Global Construction Review.
Blue Collar Labs has featured me as an Industry Thought Leader.
GenieBelt named me as one of the top 100 influencers in construction.
Red Band UK has featured my Twitter account @aarnih as one of the top 20 in 2017 in construction.
FitsSmallBusiness featured me as a Top Construction Influencer of 2018.
My work has been featured in these and many other media:
---
About the Industry
Companies in the AEC industry have one quality that makes them different from many other firms. They create our built environment, and their work endures over decades or centuries. In that sense, they have a great responsibility to people and the environment. Construction requires money and creates wealth, but sometimes it also destroys them.
Construction is a USD 10 trillion market and is expected to grow another 8 trillion by the year 2030.
I believe that there is a lot of business potential in AEC. Combining the traditional strengths of the industry with innovative ways of doing business can create awesome results.
---
The Blog
AEC-Business.com is a blog and podcast for innovators and game changers in the construction industry. The podcast episodes are also available on iTunes and many other podcasting platforms.
I share ideas, success stories, tools and techniques that you can use to increase your company's success through strategies, innovation, and development. Read what others have said about my blog.
Sponsors are welcome to advertise on the blog.
---
Newsletter
Subscribe to the monthly AEC Business newsletter.
---
Contact
Send your comments and questions to
aec-business(Replace this parenthesis with the @ sign)aepartners.fi.
---
What others have said about my blog
I'm excited to share these reviews of my online influence:
MY TOP 10 RECOMMENDED CONSTRUCTION INDUSTRY BLOGS AND NEWS WEBSITES FOR 2013
"This is a great blog by management consultant Aarni Heiskanen. Heiskanen really knows the industry and shares from his personal experience. He is also personable and helpful, which earns him two big thumbs up from me. The blog is fairly new, so I hope he will see success and continue writing for a long time to come." – TrueLook
---
AEC Business blog: (2014 Best Construction Blog nomination)
Written by Mark Buckshon on January 14, 2014 "Finnish-based Aarni Heiskanen writes a refreshing comprehensive blog about AEC management and business practices in AEC Business: Business inspiration for Architects, Engineers and Contractors. You'll find many gems here, including this podcast interview with Michael Stone (whose blog also has been nominated for the competition.) Although I've known Michael Stone for many years, I didn't know the story of how he started his consulting business until I learned it in the AEC Business podcast. The blog's graphic design quality certainly to me is among the best and most professional I've seen (frankly setting a far higher standard than my own blog and company sites.)" – Construction Marketing Ideas
---
The Top 9 Construction Blogs You Should Be Reading
Posted: 3/28/2014 "This is a great blog by management consultant Aarni Heiskanen who knows the industry and its important players." – ICG
---
Top 50 Construction Management Blogs
September 17, 2014 "Aarni Heiskanen, a partner at AE Partners and Executive Producer of AEC Business, authors AEC-Business.com in the hopes of sharing ideas, success stories, tools, and techniques with architecture, engineering, and construction business owners, managers, and developers. The blog, therefore, covers a wide range of topics critical to industry leaders." – Direct Capital
---
The Top 17 Construction News Sites and Blogs
Published April 28th, 2015 by Rachel Burger in Construction Management "Run by one-man army Aarni Heiskanen, this blog is a great resource for construction business owners looking to up their game with strategic insights. Filled with useful how-tos and a simple writing style, this blog is a must-read for construction managers wanting to stay 'in the know.'" – Capterra Construction Management Blog
---
Top 20 Construction Blogs & Publications to Follow in 2016
Posted by Philip McClendon on Oct 23, 2015 "AEC Business is a blog that will appeal to business owners, R&D managers, and construction business developers alike. Written by Aarni Heiskanen, an architect turned architectural R&D manager, internet entrepreneur, and certified management consultant, AEC Business is a valuable resource for any construction professional. Innovative ideas, products, tools, and success stories are at your fingertips to help you increase your company's success. AEC Business features blog posts and podcasts, has a simple, clean, and stunning layout, and is not to be missed." – Citizens General Insurance Brokers
---
5 Construction Blogs You Should Be Reading
Posted on February 19, 2015 "Blogger Aarni Heiskanen is able to offer a site with lots of timely advice from the business and management aspect of the industry, due to his years of experience within it. In addition to personal posts, this site offers updated articles and interviews with industry experts and leaders." – Raken
---
The Best Resources for Your Construction Business
Posted on January 14th, 2016 by Matt Meltzer in Small Business Resources "AEC Business – There's a reason why this blog from management consultant Aarni Heiskanen shows up on every list of top construction blogs: It's flat out the best one. The long-time construction industry insider delivers tips on everything from writing reports to utilizing mobile apps, often interviewing industry leaders for the stories. Combining that with a wide-image, sexy layout and relevant content makes this a must-read for anyone in the industry." – BFS Capital
---
8 Great Construction Blogs You Need to Bookmark Now
March, 2016 AEC-Business is a blog for construction industry innovators and game-changers. This top blog includes ideas, success stories, tools and techniques that can help increase company success through strategy, innovation and development. The blog also includes a podcast. Aarni Heiskanen blogs for AEC Business and is a Managing Partner at AE Partners, and Co-founder of Thinking Portfolio. – Assurex GlobalWORK LIFE
---
25 Construction Blogs For Builders & Industry Experts
October 12, 2016 This slick looking blog is written for innovators and game changers in the construction industry. It's chock-full of interviews and in-depth articles about the latest technology and trends. Finnish author Aarni Heiskanen writes the posts himself and updates at least once a week, drawing on his 25 years of extensive industry experience. Very techy and cool. – WorkflowMax
---
Top 5 Construction Blogs
March 10, 2017 Another one of our go-to construction blogs is the AEC business, run by Aarni Heiskanen. With plenty of features on some of the most current construction matters, AEC Business writes in-depth, yet easy-to-follow blogs. Recently, the blog has featured a number of interesting pieces on construction technology, including virtual reality and augmented reality. – Thatcher Associates
---
Are You Following These 12 Prolific Construction Bloggers?
May 10, 2017 The AEC Business Blog offers a rare glimpse into the future of construction technology! Aarni is passionate about all things tech and his desire to find innovative solutions to the industry's big challenges is contagious. The blog is updated at least once a week and packed with intelligent commentary on the latest industry trends, as and when they develop. – Agency Central Ltd.
---
Top 50 Best Blogs
August 22, 2017
GenieBelt awarded my blog as one of the TOP 50 in construction.
---
Top 20 Construction Twitter account
February 2, 2018
Red Band UK has featured my Twitter account @aarnih as one of the top 20 in 2017 in construction.
---
Top 15 Construction Technology Blogs and Websites To Follow in 2018
May 31, 2018
"The Best Construction Technology Blogs from thousands of Construction Technology blogs in our index using search and social metrics. We've carefully selected these websites because they are actively working to educate, inspire, and empower their readers with frequent updates and high-quality information."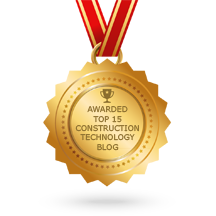 ---
Top 20 construction news sites you have to bookmark
July 5, 2018
"Without further delays, find below our detailed list of 20 great construction news sites that you need to follow. Our selection was based on the following parameters:
Quality of content
Presence on social media
The frequency of generating fresh, engaging content"
---
Six of the Best: Resources for Construction News
July 18, 2018
"If, like us, you have lots going on and little time, then you need information quickly; distilled, curated and ready for review. In our Six of the Best series, we compile key resources that may be most useful – summed up concisely in one easy, at-a-glance list for you to bookmark for future reference."
---
Top Construction Influencer of 2018
October 9, 2018
"We found that the influencers listed have outstanding credentials, expertise, and skills pertaining to the construction industry, as well as an impressive quantity of social media followers."
---
Top 15 Construction Technology Blogs
February 13, 2019
"The Best Construction Technology Blogs from thousands of Construction Technology blogs in our index using search and social metrics. We've carefully selected these websites because they are actively working to educate, inspire, and empower their readers with frequent updates and high-quality information."